At Arkinstall Galvanizing, we take great pride in our expertise in Hot Dip Galvanizing design, and we are committed to ensuring that your projects receive the perfect design for optimal galvanization results. Our team of experienced professionals is here to provide you with valuable insights and assistance throughout the design process.
We understand that even minor changes made during the design stage can significantly impact the aesthetics and functionality of a product after the galvanization process. That's why we place immense importance on collaborating with you right from the initial design phase. By doing so, we can help identify potential areas of concern, optimise designs for galvanizing, and ultimately save time and resources in the long run.
Our goal is to ensure that your finished products not only meet the highest quality standards but also maintain their intended appearance and functionality post-galvanization. Through careful evaluation and analysis, we can offer suggestions and modifications that will lead to the best possible galvanized outcome for your specific project.
We invite you to contact us at your earliest convenience to arrange a visit and discuss any new projects you have on the horizon. During our meeting, our team will attentively listen to your requirements, project goals, and any specific challenges you might anticipate. This collaborative approach enables us to gain a comprehensive understanding of your needs, allowing us to tailor our solutions to perfectly align with your objectives.
Our aim is not only to assist you in achieving superior galvanized results but also to build a lasting partnership based on trust and professionalism. As your reliable galvanizing design partner, we are dedicated to delivering top-notch services that meet and exceed your expectations.
By choosing Arkinstall Galvanizing, you gain access to a wealth of knowledge and experience in the galvanizing industry. We are here to guide you through every step of the process, from design conception to the final product, ensuring seamless integration and successful galvanization.
Let us help you bring your projects to life with the perfect Hot Dip Galvanizing design. Contact us today to schedule a visit and take the first step towards a successful collaboration that will drive your projects to new heights of excellence. We look forward to partnering with you and contributing to the success of your ventures.

We have built solid partnerships over the many years we have been trading to give us assess to shot blasting, powder coating, larger galvanizing facilities, spin galvanizers and transport companies. Arkinstall have built an enviable reputation for Hot Dip Galvanizing based on more than 120 years experience and as privately owned company, we can offer a highly personalised service tailored to meet your galvanizing requirements.
Arkinstall realise that in today's competitive environment, companies expect the best possible service from their suppliers. Therefore, we tailor our services to suit the exacting needs of our customers, with over 50% of the goods we produce being processed and dispatched inside of 24 hours.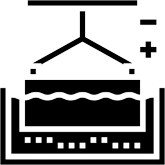 Birmingham's only
Hot Dip Galvanizer
We have an inhouse capability of up to 4m x 1.7m x 2.4m but can accommodate much larger items that can be processed through our partner facilities.

100+ years industry
Experience
As leading galvanizing experts, we pride ourselves on offering you the highest quality finished products, customer service, help and advice.

Competitive prices and
Turnaround
As the UK's leading hot dip galvanizer, offering a same day or next day service, there is no job too big or too small. Over 75% of our work is in and out within 24 hours